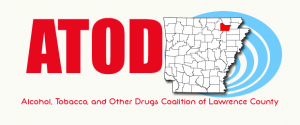 The Alcohol, Tobacco, and Other Drugs Coalition of Lawrence County is a drug prevention coalition whose primary goal is to reduce underage drinking within Lawrence County.
ATOD has monthly meetings and the public is welcome to attend.
You can find out about ATOD  and how to join right here at lawrencecountyarkansas.com by clicking the link!
http://www.lawrencecountyarkansas.com/atod-coalition-of-lawrence-county/