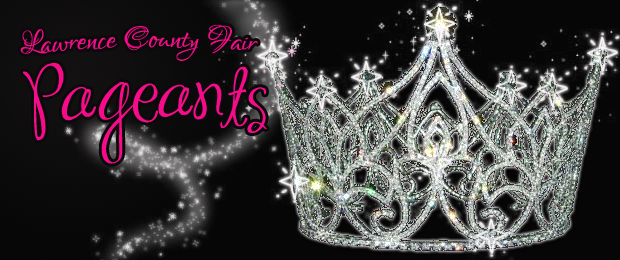 Lawrence County Fair pageants will be held August 11th & 12th 2017 in the Sloan-Hendrix gym. A rehearsal will be held August 10th at 6:00pm . Entry forms will be out in the following locations: to be announced soon.
Entry fee is 15.00
Photogenic 5.00
For more information call
501-412-6753 or 870-869-797
MAIL FORMS TO:
LAWRENCE CO. FAIR
PO BOX 791
IMBODEN,AR 72434
THE LAWRENCE CO. FAIR PAGEANTS WILL BE HELD ON AUGUST 11th and 12th IN THE SLOAN-HENDRIX GYMNASIUM STARTING AT 6 PM.
A REHEARSAL WILL BE HELD ON August 10th STARTING AT 6:00 PM.
Friday August 11th starting at 6:00pm
Cute Baby Girl & Boy age 0-12 months
Cute Kiddie Girl & Boy age 13-23 months
Tiny Miss age 2-3 year old
Saturday August 12th pageant at 6:00pm
Private Interviews for Jr and Miss contestants at 4:00pm
Petite Miss age 4–5-6 year old
Little Miss age 7-8-9 year old
Young Jr Miss 10-11-12 year old
Jr Miss 13-16 year old
Miss Lawrence Co 17-21 year old
Remember to enter the pageants you must be a Lawrence County resident or attend a Lawrence Co school.
Download a form at the bottom of this page.
ENTRYS WILL BE TAKEN FROM NOW UNTIL AUGUST 5th . NO LATE ENTRYS WILL BE ACCEPTED. THE PICTURES NEED TO BE MAILED WITH FORM OR BROUGHT TO REHEARSAL.
NO PREVIOUS WINNERS MAY ENTER THE SAME DIVISION, IF ANYONE TRIES THEY WILL BE DISQUALIFED.
DRESS FOR 0-12 IS CASUAL ONLY.NO PAGEANT WEAR. JR. MISS AND MISS CONTESTANTS WILL NEED
INTERVIEW DRESS OR SUIT, JR. MISS WILL NEED SPORTS WEAR,SR. MISS CASUAL WEAR AND EVENINGGOWN.
CUTE BABY GIRL 0-12 CUTE KIDDIE GIRL 13-23 TINY MISS 2-3 YOUNG JR. MISS 10-12
CUTE BABY BOY 0-12 CUTE KIDDIE BOY 13-23 PETITE MISS 4-6 JR. MISS 13-16
MISS LAWRENCE CO. 17-21
Anyone who has previously won a division of the county pageants can not compete in that same division again
Lawrence County Fair Kids Pageant Form
Lawrence County Fair JR and SR Pageant Form